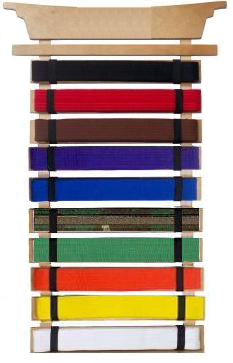 OUR MARTIAL ARTS BELT SYSTEM:
Our Taekwondo Students learn the traditional ITF (International Taekwondo Federation) Forms.  ITF Forms are gounded in combat techniques in terms of their patterns, kicks, strikes, blocks and stances.  We integrate Conditioning, kickboxing, introductory grappling, and simle hapkido techniques to each belt level.
In addition to the Martial Arts mentioned above, Our Adult Self Defense Classes are an intense combination of CKM (Commando Krav Maga), Eklectic Kombat Pankration (Grappling), Brazilian Jiu Jitsu from the Indy South Carlson Gracie Jiu Jitsu School.
Students wishing to acces their forms sheets and videos, please click on the form name above in the drop down menu or below:
White Belt  |  Yellow Belt |  Orange Belt  |  Green Belt  |   Camouflage Belt  |   Blue Belt  |  Purple Belt  |   Brown Belt  |  Red Belt  |  Black Belt